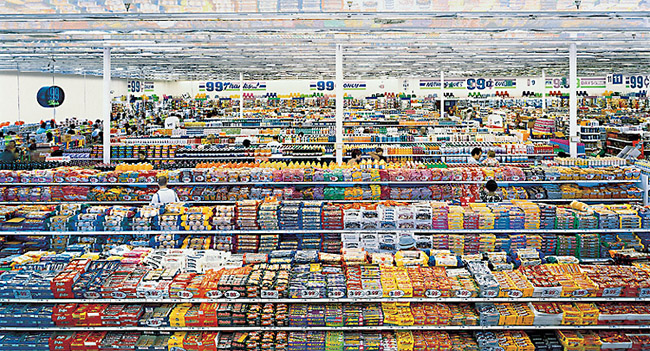 Andreas Gursky 99 Cent
"Every time you spend money, you're casting a vote for the kind of world you want." ― Anna Lappe
Following Black Friday, Time Magazine remarked that the tame 'one death and fifteen casualties' deemed this year's shopping extravaganza 'calm'. If there's any symptom of a materialism problem in America, it's the fact that major media outlets expect people to be killed or maimed on big shopping days. Imagine that– a country hungry for more stuff, new stuff, shiny stuff– willing to sacrifice its own people and shed blood for bargains.
I am embarking on the lukewarm journey of shopping for the holidays. The only apparent redeemable quality of holiday shopping is that it involves doing a service for those we love. Besides that, it's a borderline morally-bankrupt activity that results in over-consumption, overuse and antisocial tendencies among hundreds of millions of shoppers. Here is how you can stay sane and learn a little something from the chaos.
Keep it simple.
Unless you're the type of person who has sacrificed all else for the sake of increasing your net worth, you probably have more to give your family than gifts. What you give is less important than how you give it. Give with love, with no expectations of anything in return. Give confidently, and choose simple gifts that say a lot over expensive gifts that only say "I'm expensive".
Get creative.
Inspired simplicity could mean using one of your skills to create something one-of-a-kind. For my birthday recently, my younger sister presented me with a hand-drawn pastiche of some of my favorite book covers. This gift meant exponentially more to me than a fancy piece of clothing or an Apple product ever could. You have talents, the combination of which could potentially produce a remarkably unique and thoughtful gift. Instead of spending hours trawling through online deals, consider brainstorming for a bit and making your own gifts.
Spend mindfully.
Remember that every dollar you spend goes somewhere. It's divvied up amongst those who provided you with whatever you purchased, be they workers, executives or middle-management people. The world we live in today was created by corporations and the people who funded them. As you shop, remain mindful of where you're shopping and to what entities you're allocating money you've earned through your own sacrifice of valuable time. Consider only shopping at small businesses, or use aesource like Etsy, the eBay-esque trading post for handmade and vintage goods.